(TR) BKM olarak web sitemizi geliştirmek, kullanışlı, etkili ve güvenli hale getirmek amacıyla çerezler (cookie) kullanıyoruz. Sitemizde gezinmeye devam etmeniz halinde cihazınızdaki çerezlere erişebileceğimizi de kabul ediyorsunuz. Ayrıntılı bilgiye ve çerezleri engelleme yöntemlerine Çerez Politikası'ndan ulaşabilirsiniz.
Turkey; An exceptional Market for Payment Innovations
Turkey; An exceptional Market for Payment Innovations
Payments in Turkey, an ever-growing market…
Turkey at the crossroads of Europe and Asia has a banking sector that defies expectations. It has grown at an annual compound rate of 20 per cent over the past 15 years in terms of asset size. In this growing and dynamic market, payments have been one of the major drivers of growth and innovation.
Fifteen years ago, only 9 per cent of total household consumption was through cards. Today this ratio has almost reached 40 per cent, with a dramatic rise in recent years. The vision is to have a 100 per cent cashless society.
Today, Turkey is the largest market in terms of total number of cards and point-of-sales (POS) machines*. There are over 120 million debit cards, 59 million credit cards, and 2.3 million POS machines in the market.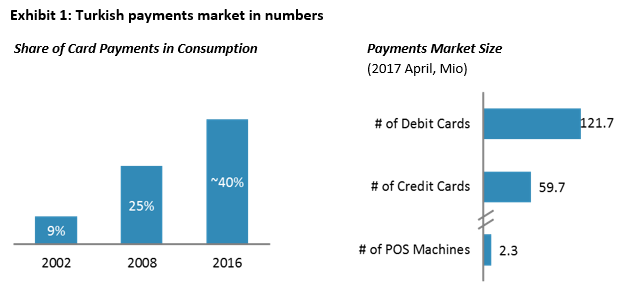 … inspiring the world with its innovative solutions
Turkey with its rich history, going back to thousands of years ago, is a land that has shaped the history of economics as well. Money, commerce, and the concept of the stock exchange, all were born in Anatolia.
Turkish society's shopping and payment culture has grown out of this rich heritage. Its young population embracing technology and new products has traditionally made Turkey a center of innovation for payments also in modern times. Turkey was the first European country that issued a contactless credit card in 2006 and the third European country that fully completed the Chip & PIN migration after France and the UK in 2007. Turkish banks launched the world's first national digital wallet, BKM Express, as early as 2012. Most recently, Turkey launched its first ever national payments scheme, "Troy – Turkey's Payments Method" in 2016 marking the start of a new era in the Turkish payments market.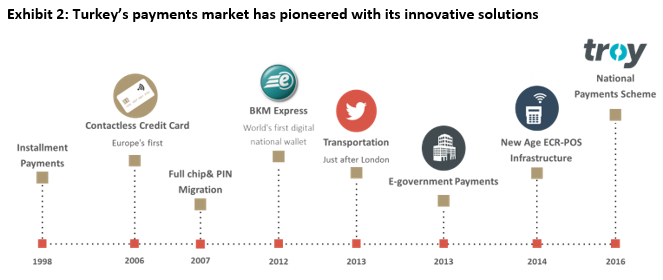 "TROY, Turkey's Payments Method" as a strategic initiative in this innovative market
Troy -the payment method and brand developed by Turkish banks' shared platform BKM (Interbank Card Center of Turkey)- is a strategic initiative supported by all the banks and managed by BKM.  In a market where 97 per cent of card transactions are domestic, the need for a national scheme had become more and more concrete. Building on advanced payments technologies, secure infrastructure, and knowhow, Turkish banks combined forces to create a national payment scheme that can better address local requirements, shorten go-to-market time for innovative products, enlarge freedom of capabilities, and increase cost effectiveness.
As an initial step, Troy achieved 100 per cent acceptance on all the terminals in Turkey (over 2.3 million) including ATMs, point-of-sales machines, and e-commerce sites. This is what differentiates Troy from other national schemes around the world and gives Troy the edge to grow in a challenging market like Turkey.
*Based on the 2015 statistics by European Central Bank's "Payments Statistics: General Notes" Report